Barracuda PhishLine

Fight phishing with continuous simulation and training

Barracuda PhishLine Products
PhishLine User Licenses
Barracuda PhishLine (25 - 249 Users) (minimum 25 users)
Includes: Barracuda Essentials Service (#BEO001a), Barracuda Phishline Service (#BEO001a-bpl)
*Price per License.
#BEO001a-bpl
List Price:
$22.08
Our Price: $20.98
More pricing below, click here
Overview:
Defend Your Business Against Social-Engineering Attacks
Fight phishing and other potentially devastating attacks that can slip through security gateways. These evolving and sophisticated attack techniques, designed to fool employees, put your business at risk for data loss, financial fraud, and embarrassing exposure. Transform employees into a layer of defense with Barracuda PhishLine.
With PhishLine, you guard against every facet of social-engineering threats with continuous simulation and training for employees. Expose them to the latest attack techniques, and teach them to recognize the subtle clues and help stop email fraud, data loss, and brand damage. Embed learning into your everyday business processes with customized simulations that test and reinforce good behavior.
Only PhishLine helps you guard against a range of threats with patented, highly-variable attack simulations for multiple vectors, including phishing, smishing, vishing, and found physical media.
Customize Training to Make it Engaging and Relevant to Your Users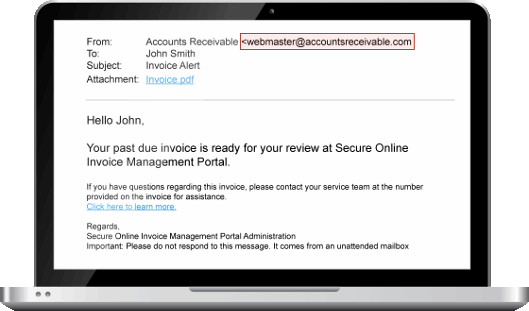 The Sender: Do you recognize the name, address, and domain? If not, be suspicious.
The Message: Does the email evoke an emotion, such as concern, desire, or curiosity? We suspend disbelief when we experience emotion, and phishing emails use this against us.
The Report: What does the message want you to do? Click a link? Download an attachment? Do neither until you are confident of the message's legitimacy.
PhishLine's simulation and training content is easy to use and is fully customizable. You get a wide variety of materials: Choose from hundreds of easy-to-use simulation templates, landing pages, risk assessment surveys, and engaging multi-lingual training content in the online PhishLine Content Center Marketplace™. Materials can be used individually or integrated into simulated phishing and social-engineering campaigns. New simulation and training content is added daily, to reflect the most recent threats and training resources available to help protect your business.
PhishLine lets you deliver training as soon as the need is identified, using a built-in workflow engine. For example, you can use a landing page for in-the-moment training when someone performs an unsafe action as part of a mock phishing campaign. You can also send training invitations to specific employees based on their past actions and risk profile. Plus, you can schedule training invitations and post on-demand training on your intranet.
PhishLine makes it easy for employees to instantly report suspicious emails to your help desk or incident response team. The built-in Phish Reporting Button is a simple, powerful solution that gives you complete control over the entire process at all times.
Identify Human Risk Factors in a Non-Threatening Manner
Do employees truly understand that information security policy they signed? Did a recent information security announcement have any impact on their perceptions of risk? Is your security awareness program addressing the real needs of employees, from their perspectives?
These are some of the questions addressed by PhishLine's Risk-Based Survey module in a thoughtful, perceptive, and non-threatening manner. These unique, qualitative, risk-assessment capabilities allow for discovery in the "voice of the employee."
Back-end analysis capabilities lead to a unique and powerful assessment tool that quantifies risk by impact and likelihood scores. You can objectively evaluate your organization's human-risk factor based on meaningful feedback from your employees.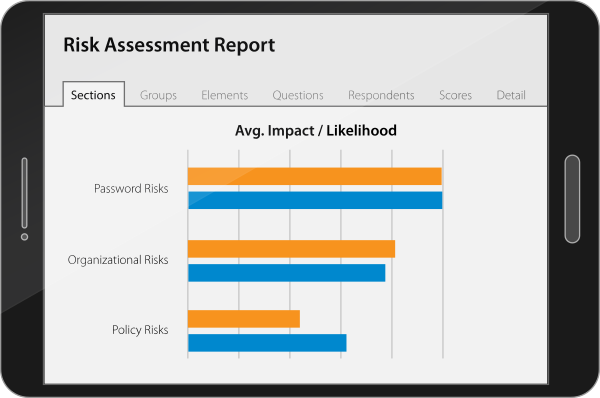 Protect Your Business With Updated Content That Guards Against The Latest Threats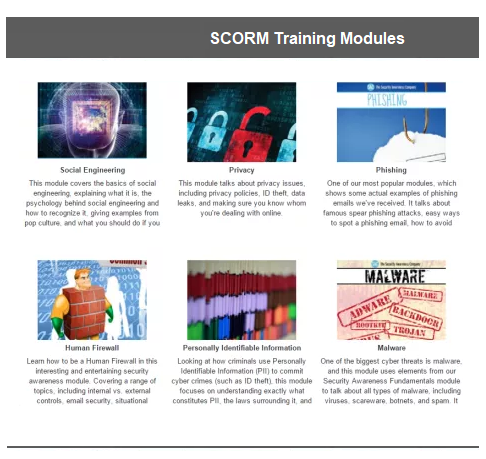 With PhishLine, there's no need to recycle the same old training and testing materials. The Content Center Marketplace is constantly updated by security experts to reflect the newest threats and the training resources available to protect your business. Engage employees – and keep their interest – with a wide variety of choices and materials designed to fit your corporate culture.
In addition, PhishLine provides Click Thinking™, a monthly bundle of content updates. Each update is aligned around a hot topic, and includes a new training video, email template and landing page. A monthly newsletter, infographic and intranet content also help keep your training program fresh and on topic.
There's no need to piece together your curriculum. PhishLine experts have created phishing tests—from methodologies, to lures, to landing pages—that complement the content of our partners' training materials. This means there is one style, one message, one way to make things happen from start to finish. Providing a fully-integrated, social-engineering solution saves your business time and money.
Automate Your Anti-Phishing Program
Execute consistently to stay ahead of hackers.
Automatic Updating of Address Books
The PhishLine Workflow Subscription can save you time while improving your address book accuracy! PhishLine can automatically merge data from multiple sources, eliminating the need to manually export and import address books for each employee.
Merging Risk-Based Attributes from Multiple Sources
The PhishLine Workflow appliance can also merge risk-based user attributes from other applications and databases and then use this information to trigger testing and training campaigns based on events. For example, you can integrate PhishLine into your HR system to automatically trigger a "new hire training campaign" for new employees.
Teachable Moments that Matter™
By integrating with third party databases such as LDAP, PhishLine can automatically trigger the delivery of security awareness content based on actual events. For example, a simple password reset request to the help desk can now become an immersive moment in which users can receive training and testing to ensure best practices are being applied.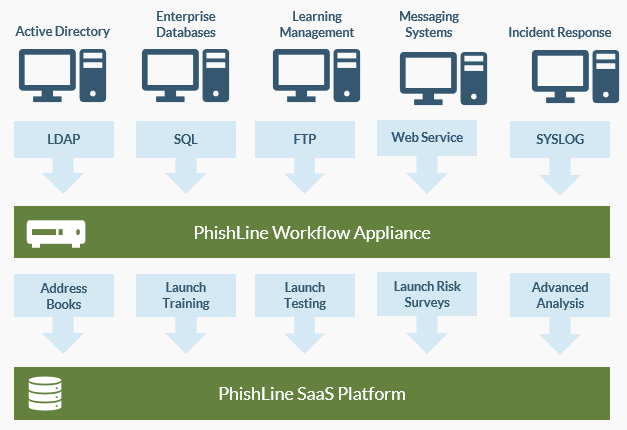 Automate Incident Response and Get Access to Threat Insights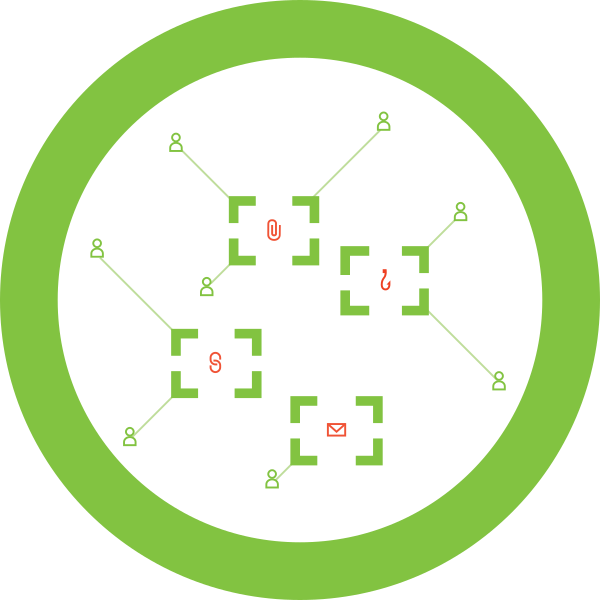 No email defense can protect against every email threat one hundred percent of the time. And when malicious email ends up in a user's inbox, you need to address the problem quickly. Slow, inefficient manual incident response processes too often allow the attack to spread further.
Barracuda Forensics and Incident Response automates incident response and provides remediation options to address issues faster and more efficiently. Admins can send alerts to impacted users and remove malicious email directly from their inboxes with a couple of clicks. Discovery and threat insights provided by the Forensics and Incident Response platform help to identify anomalies in delivered email, providing more proactive ways to detect email threats such as email security awareness and phishing simulation training.
*Requires access to both Essentials and Sentinel
Features:
Phishing Training
Barracuda PhishLine uses advanced, automated education technology that includes simulation-based training, continuous testing, powerful reporting for administrators, and active incident response awareness.
Phishing Simulation
Simulated phishing attacks are constantly updated to reflect the most recent and most common threats. Simulations are not limited to email, but also include voicemail, text, and portablemedia (USB stick) attacks. Templates let you customize simulations.
Phishing Reporting
Barracuda Phishline provides advanced analytics and reporting tools that enable you to identify how effective your training is and how users react to actual phishing attacks that may slip through other defenses.

Multi-Vector Threat Simulation
Email "Phishing"
SMS "Smishing"
Voice "Vishing"
Found physical media
Advanced Interactions:
Attachments
Credential form
Feedback form
File upload/download
Geolocation query
Unsubscribe forms
Advanced plugin detection
Exit-screen pop-ups
CAPTCHA forms
Additional Enhancements
Education
SCORM compliant courseware
Posters and newsletters
Web banners and digital learning media
Quizzes and risk assessment surveys
Reporting and Analytics
Collects over 16,000 data points
Detailed trend analytics
Local IP detection
Inbox message analytics (out-of-office messages and direct replies)
Application, OS, and vulnerability profiling
Customizable reports and dashboards
Report generation and export capabilities
Incident Response
Phish reporting button—available on multiple email clients
Incident response metrics and dashboards
Incident response workflows
SEIM integration
Administrative Features
Multi-factor authentication
Built-in privacy controls
DLP tagging
Customizable x-headers
62 address book attributes
Approval workflow
Levelized programs
SSO authentication for administrators
Patented Simulations
PhishLine provides patented attack simulations that train your employees to guard against email social-engineering threats that can compromise your valuable data and result in financial loss and damage your company's business reputation. A/B tests also prevent users from receiving duplicate mock phishing templates.
Curated Content
Choose from dozens of easy-to-use simulation templates, landing pages, risk assessment surveys, and phishing awareness training content in the online PhishLine Content Center Marketplace™. New simulation and training content is added daily, to reflect the most recent threats and training resources available, and all content is fully customizable.
Levelized Programs
As employees progress through their training program, the content constantly changes, challenging them to continuously improve their phishing detection and reporting skills.
Total Email Protection Portfolio
PhishLine can be bundled with Barracuda's award winning portfolio of email gateways, cloud-backup and artificial intelligence products to provide the most comprehensive, multi-layered, email security solution in the industry.
PhishLine Concierge Service (Optional)
PhishLine Concierge is an optional add-on service that offloads the complex tasks of defining, configuring, executing, and analyzing your email security awareness and phishing simulation campaigns to a dedicated email security consultant. This keeps your resource overhead to a minimum.
Advanced CBT Courses
Barracuda PhishLine provides advanced, real-time and computer based training across the entire SaaS portfolio including Barracuda PhishLine and Barracuda PhishLine Concierge.
Gamification
Barracuda PhishLine uses gamification to motivate participation and achievement in increasing security awareness. Training videos, infographics, posters, and other educational materials supplement the core simulation training system.
Multi-Language Support
Barracuda PhishLine provides email security training in over 20 different languages, delivering a consistent training and simulation platform for enterprise customers with multi-national workforces spread across the globe.
Active Directory Integration
Barracuda Phishline enables automatic importing of active directories, so you can quickly and seamlessly integrate employee information into your email security training campaigns.
Barracuda PhishLine


Awareness
Fight phishing with continuous training and simulation

Barracuda Sentinel


Fraud Defense
Artificial intelligence for real-time protection against spear phishing, account takeover, and Business Email Compromise

Barracuda Essentials


Gateway Defense

Barracuda Essentials


Resiliency
All-in-one cloud-based email security, backup, archiving, and e-discovery for Office 365 and Microsoft Exchange

Office 365 | Exchange
At A Glance:
Editions
PhishLine
PhishLine Concierge
Total Email Protection
Barracuda PhishLine
Multivector simulation campaigns
✔
✔
✔
Customizable Templates
✔
✔
✔
Advanced Interaction Tracking
✔
✔
✔
Educational Content Library
✔
✔
✔
Incident Response Capacities
✔
✔
✔
Reporting and Analytics
✔
✔
✔
Mail Server/ LDAP Integration
✔
✔
✔
Advanced Interactions
✔
✔
✔
Administrative Features
✔
✔
✔
Levelized programs
✔
✔
✔
Dedicated Consultant Support
✔
✔
Barracuda Essentials
✔
Barracuda Sentinel
✔
Barracuda Forensics and Incident Response
✔
Pricing Notes:
Pricing and product availability subject to change without notice.
Barracuda PhishLine Products
Barracuda Phishline SaaS Subscriptions
Barracuda PhishLine (25 - 249 Users) (minimum 25 users)
Includes: Barracuda Essentials Service (#BEO001a), Barracuda Phishline Service (#BEO001a-bpl)
*Price per License.
#BEO001a-bpl
List Price:
$22.08
Our Price: $20.98
PhishLine User Licenses
Barracuda PhishLine 1 Year User License (100 - 1999 Users), Renewal
*Price per User. Quantity must be 100 or greater.
#BPL100a-c1
List Price:
$22.08
Our Price: $20.98
Barracuda PhishLine Subscription (SOW)
Barracuda PhishLine Subscription (SOW) 1 Year
#BPL001a-s
List Price:
$12,600.00
Our Price: $11,970.00
Barracuda PhishLine Concierge License
Barracuda PhishLine Concierge License
#BPL100a-p1
List Price:
$16,800.00
Our Price: $15,960.00
Barracuda PhishLine Premium Support
Barracuda Phishline Premium Support 1 Year (min 1000 users)
#BEO-BPL1-PS
List Price:
$4.80
Our Price: $4.56
Barracuda Phishline Concierge Service
Barracuda Phishline Concierge Service, Per Account, 1 Year
#BEO001a-bplc
List Price:
$16,800.00
Our Price: $15,960.00