Barracuda NextGen Control Center for Amazon Web Services

Central Management of the Entire Enterprise Security Infrastructure

Barracuda Products
Amazon Web Services Account
Barracuda Firewall Control Center for AWS VCC400 Virtual Subscription
#BNCCAW400a-v
List Price:
$3,000.00
Our Price: $2,850.00
Barracuda Firewall Control Center for AWS VCC610 Virtual Subscription
#BNCCAW610a-v
List Price:
$11,640.00
Our Price: $11,058.00
If you are currently working with another reseller you may not be eligible to receive any promotional items with your purchase. Please contact us before placing your order. BarraGuard.com reserves the right to deny free promotional items on any purchase.
Click here to jump to more pricing!
Overview:
Security-conscious companies and managed security providers are confronted with an increasing number of gateways in their networks. Managing hundreds or thousands of systems can require a costly, timeintensive process by qualified staff. The Barracuda NextGen Control Center can significantly decrease administrative overhead.
Moving your IT Infrastructure to the Cloud? Running on Amazon Web Services?
Barracuda Networks is your partner for various kinds of deployments in Amazon Web Services. We understand your IT needs and provide best-of-breed solutions for firewalling, load balancing, web application security, and email security in the public cloud.
Barracuda Networks and Amazon Web Services
Today, many organizations are looking to the cloud to take advantage of the economic gains and operational efficiencies inherent to non-hardware-based solutions. While migrating to the cloud means companies need to adjust to new security threats, the ability to scale according to business needs means that AWS offers a powerful value proposition. The pay-as-you go model Amazon uses enables businesses of all sizes to access just the AWS services they need, and no more.
In the cloud, companies need security that can compensate for a broader attack surface and a new array of threat vectors. As Amazon seeks to provide more options for hybrid cloud and pay-as-you-go subscriptions, Barracuda's security services have moved hand-in-hand with Amazon's values. Not only is Barracuda committed to providing total threat protection to AWS customers, but we're taking steps to emulate Amazon's methodologies within our product offerings. Barracuda and Amazon work well together because we have the same end user in mind: A person Amazon calls the "whole stack professional" and Barracuda describes as a "mid-market IT professional who wears a lot of hats."
Move Your Physical Data Center to the Cloud with Amazon Web Services
Get Secure Connectivity with Visibility and Control by using the industry's most advanced next-generation firewall solution for deployments in Amazon Web Services. The Barracuda NextGen Control Center ensures highly secure, encrypted traffic from, to, and within AWS, provides secure remote and site-to-site access, and centralized management.
The growth in cloud computing capabilities and services has driven more data into places where traditional IT security measures cannot reach - into data centers not owned by your corporate IT group. Securing applications and data in AWS is far easier with tools that are dedicated to the task. Deploying the Barracuda NextGen Control Center in the cloud is very similar to running local network firewalls, and provides the advantages of common policy enforcement and distributed security management in a hybrid-IT environment. It provides next generation firewalling and secure remote access to AWS. It enables organizations to deploy sophisticated multi-zone network architecture in the cloud, just like their on-premises networks. By using the proprietary high-performance VPN protocol extension TINA (Transport Independent Network Architecture), the Barracuda NextGen Control Center deployment enables secure high speed site-to-site and client-to-site connectivity between on-premises networks and mobile-user devices. The Barracuda NextGen Control Center adds a powerful and intuitive centralized management portal that makes it extremely simple to deploy, configure, update, and manage multiple units from a single location, while also providing comprehensive, real-time network visibility and reporting.
The Barracuda Advantage
Increased security and reduced costs
Revision capabilities and easy restoration of proven configurations
Simple drag & drop configuration and visualization of VPN tunnels
Fully scalable to grow with organizational needs and requirements
Disaster recovery within a few minutes using only two configuration files
Product Spotlight
Powerful, scalable, industry-leading central management
Comprehensive revision control system
Consistent security posture and policy enforcement across the entire enterprise
Integrated Public Key Infrastructure (PKI)
Cost Efficiency

The Barracuda NextGen Control Center gives full control over system administration costs.

Lifecycle costs: Central update management drastically lowers the time spent deploying patches. Even Barracuda CloudGen Firewalls, with different software versions can be centrally managed at the same time.
Deployment costs: Using the Barracuda NextGen Control Center, rollouts with hundreds of devices can be completed within a few weeks instead of months.
Operating costs: The Barracuda NG Control Center helps to significantly reduce the cost associated with security management while providing extra functionality both centrally and locally at the managed gateways.

Security Management with Ease

Firewall rulesets and other security policies, as well as, software patches and version upgrades are centrally controlled from within the management console. Deployment can be scheduled and applied to all managed devices. Highly customizable administrative roles allow delegation of administrative capabilities for specific departments or locations. Administrators are kept informed at all times on the status of remote gateways and can implement centrally defined security rules at every location. Furthermore, the integrated revision control system provides easy audits and cuts overhead.


Barracuda Earth - the graphical realtime 3D network monitoring utility of the Barracuda NextGen Control Center, provides a status overview of all VPN site-to-site tunnels.
Deployment:
The Barracuda NextGen Control Center can run as a virtual appliance in the Amazon cloud as a gateway device for Amazon EC2 instances in an Amazon Virtual Private Cloud (VPC).
Follow the steps in this article to deploy the Barracuda NextGen Control Center in an Amazon VPC.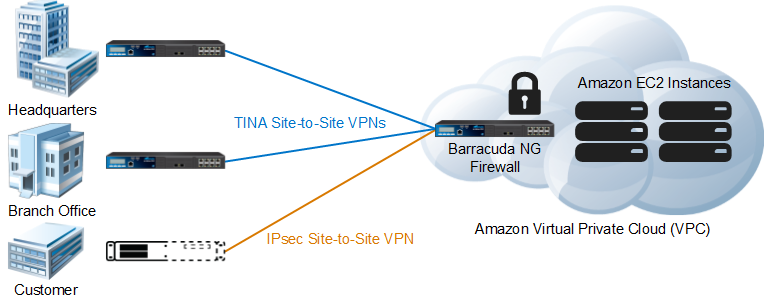 Model Comparison:
| Model Comparison | VCC400 | VCC610 |
| --- | --- | --- |
| Max. no. of Managed Gateways (Recommended) | Not limited (20) | Not limited (depending on compute instance) |
| Manageable Configuration Groupings | 1 | Not limited |
| Multi-Administrator Support | | |
| Role-based Administration | | |
| Revision Control System | | |
| Central Statistics | | |
| Central Syslog Host / Relay | | |
| Firewall Audit Information Collector / Viewer | | |
| Barracuda Access Monitor | | |
| Barracuda Earth | | |
| PKI Service | | |
| Multi tenancy | | Yes (via configuration groupings) |
Technical Specs


Configuration Management
Multitenant capabilities
Configuration templates
Object database and template repository
Firewall/VPN policies, application gateway parameters
Flat file data storage
Database characteristics (transaction, orientation, locking, etc.)
Easy configuration backup & restore
Speed install support via USB key
Configuration update monitoring
Full RCS versioning
VPN graphical tunnel interface
Barracuda Networks Access Client policy management
Multi-release management
Multi-platform management


Status Monitoring
Gateway health state
Launch pad functionality
Customizable layout
Barracuda Earth support


Trust Center
Gateway x.509 certificate CA
Gateway SSH key management
VPN server for management tunnels
Virtual IP addresses for gateways
Dynamic gateway IP address support


License Center
License timestamp server
License status display
Central event message list
Central event database
Event forwarding (SNMP, mail)
Event log


Central Session Tracking
Administration Session display
Administration Session termination


Central Software Update
Real-time version display
Kernel and OS updates
Barracuda CloudGen Firewall F-Series updates
Update log viewer


Secure Remote Execution (SSHv2)
Job scheduling
Script management
Execution log viewer


Administration Models
Fully GUI-based access
Strong authentication & AES encryption
Role-based administration
Adjustable view on configuration tree
Configurable administrative domains
Multiple domains per administrator
Configurable access notification


Reporting & Accounting
Historical reports on gateway activity
Customer-based gateway activity reports
Policy distribution
Control-Center resource utilization
Gateway resource utilization
Central log host
Streaming/relaying to external log host


Additional Functions
NTP4 time server for gateways
Integrated DNS server
High availability
SIEM syslog interface
Public Key Infrastructure
Revision Control System
Barracuda Access Monitor
Support Options


Barracuda Energize Updates
Standard technical support
Firmware updates
IPS signature updates
Application control definition updates
Pricing Notes:
Pricing and product availability subject to change without notice.
Barracuda Products
Amazon Web Services Account
Barracuda Firewall Control Center for AWS VCC400 Virtual Subscription
#BNCCAW400a-v
List Price:
$3,000.00
Our Price: $2,850.00
Barracuda Firewall Control Center for AWS VCC610 Virtual Subscription
#BNCCAW610a-v
List Price:
$11,640.00
Our Price: $11,058.00
Amazon Web Services Account for VCC400
Barracuda Firewall Control Center for AWS VCC400 Premium Support Subscription 1 Year
#BNCCAW400a-p
List Price:
$692.40
Our Price: $657.78
Amazon Web Services Account for VCC610
Barracuda Firewall Control Center for AWS VCC610 Premium Support Subscription 1 Year
#BNCCAW610a-p
List Price:
$2,880.00
Our Price: $2,736.00