Barracuda Products
Barracuda Application Protection Plans
Application Protection, Advanced, First Application, 1 Year
#AP-Adv-1stApp-1Y
List Price:
$7,440.00
Our Price: $7,068.00
Application Protection, Advanced, Each Additional Application, 1 Year
#AP-Adv-AddApp-1Y
List Price:
$1,440.00
Our Price: $1,368.00
Application Protection, Premium, First Application, 1 Year
#AP-Prem-1stApp-1Y
List Price:
$15,600.00
Our Price: $14,820.00
Application Protection, Premium, Each Additional Application, 1 Year
#AP-Prem-AddApp-1Y
List Price:
$3,600.00
Our Price: $3,420.00
Application Protection, Premium, 10Mbps Additional Bandwidth, 1 Year
#AP-Prem-10Mbps-1Y
List Price:
$4,080.00
Our Price: $3,876.00
Overview:
Application attacks are becoming increasingly complex.
Barracuda Application Protection is an integrated platform that brings a comprehensive set of interoperable capabilities together to ensure complete application security.
Barracuda makes it simple.
Combine full Web Application and API Protection (WAAP) functionality with a complete set of advanced security services and solutions that protect your applications against today's multiplying threats. Whether your applications are deployed on-premises, in the cloud, or hybrid, Barracuda Application Protection makes it easy to keep them secure and available.
44%
of breaches were due to bot attacks**
39%
of breaches were due to supply chain attacks**
40%
of data breaches were due to account takeover attacks*
* Verizon DBIR 2022
** The state of application security in 2021
Start with flexible, powerful WAAP solutions.
Barracuda Web Application and API Protection (WAAP) solutions are available as appliances (hardware or virtual) that can be implemented on premises or hosted in the cloud, as a container and through an innovative SaaS solution that combines advanced functionality with ease of deployment and management. The containerized Barracuda Web Application Firewall can be deployed and managed using the SaaS version, providing the option to use either or both versions based on your needs.
With both deployment models, you get complete application security, including protection for the OWASP Top 10 Web and API threats, zero-day attacks, and many more vulnerabilities and automated threats, along with automatic detection and remediation. Compared to many competing solutions, Barracuda WAF solutions are remarkably simple to deploy, configure, and manage, with capabilities like the Machine Learning-powered Auto Configuration Engine.
Gain comprehensive protection against web app attacks.
Whether it's a script kiddie attempting their first SQL Injection against your login form or advanced attackers attempting to compromise your app with a zero-day vulnerability, Barracuda Application Protection has you covered. It provides comprehensive protection against the OWASP Top 10 web attacks, zero-day threats, account takeover attacks, and much more with its built-in Smart Signature engine and positive security model.
Real-time attacks need real-time responses. Barracuda Active Threat Intelligence collects threat data from a large, worldwide network of sensors and customer traffic. This data is processed using machine learning in near real-time and pushed out to connected units immediately, allowing for rapid detection of new threats and attackers. Barracuda Active Threat Intelligence also holds the cloud machine-learning layer for Advanced Bot Protection and Auto Configuration Engine. Auto Configuration Engine is a service that reviews all your application traffic from connected units and provides application-specific configuration recommendations, reducing admin overhead.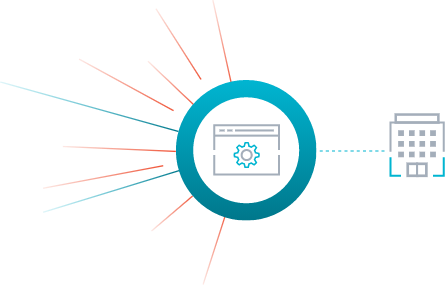 Don't let DDoS attacks bring your business to its knees.
Distributed denial-of-service (DDoS) attacks continue to be a serious threat to businesses of all kinds. By making your apps unusable or inaccessible for legitimate users, they can effectively shut down your business operations for a prolonged period of time, which can be immensely costly.
Barracuda WAAP solutions include powerful, full-spectrum DDoS protection. Covering Layer-3 to Layer-7 traffic, and blocking both volumetric and application-based DDoS attacks, this capability ensures that your business-critical applications remain available, accessible, and effective, without the interruptions that DDoS attacks seek to create.
Stop today's most advanced, malicious bots.
Hackers are creating sophisticated bots that can mimic human app users to carry out devastating attacks. The challenge is not only to distinguish between legitimate and malicious bots, but also to sort real human users from the most advanced bots.
Barracuda Advanced Bot Protection uses artificial intelligence and machine learning in the cloud to continually improve its ability to spot and block bad bots and human-mimicking "low and slow" bots — while allowing legitimate human and bot traffic to proceed with minimal impact.
Enable secure app delivery.
Barracuda Application Protection includes a hardened SSL/TLS stack to provide a secure HTTPS front end to your applications. With pre-built templates, you can immediately set up secure TLS ciphers and protocols for standards compliance with ease. The built-in CDN with over 100 points of presence (PoPs) worldwide ensures that your application loads quickly for all your users. To ensure that only authorized personnel can access your application backends and data, Barracuda Application Protection solutions integrate with AD, LDAP, SAML, JWT, OpenID, and RADIUS, giving you granular control over which users and groups can access what data.
The built-in application delivery module enables HTTP load balancing, content routing, caching, and compression. The content routing module can be used to direct traffic to various applications based on the characteristics of incoming traffic — for instance, a different server for a PC versus mobile client. Connection pooling, caching, and compression capabilities speed traffic delivery and improve user experience by reducing server load and reducing latency.
Leverage powerful reporting capabilities.
In a world of fast-multiplying regulatory frameworks and data privacy protection rules, establishing and demonstrating compliance can be a burdensome, ongoing process that consumes ever-greater amounts of resources.
Barracuda Application Protection solutions generate detailed logs automatically, and provide customized reports on demand, making it easy to demonstrate regulatory compliance. The solution also supports many external SIEMs and log management tools such as Azure Sentinel, Loggly, Sumologic, HPE ARCsight, IBM QRadar, Splunk, and many more.
Barracuda Products
Barracuda Application Protection Plans
Application Protection, Advanced, First Application, 1 Year
#AP-Adv-1stApp-1Y
List Price:
$7,440.00
Our Price: $7,068.00
Application Protection, Advanced, Each Additional Application, 1 Year
#AP-Adv-AddApp-1Y
List Price:
$1,440.00
Our Price: $1,368.00
Application Protection, Premium, First Application, 1 Year
#AP-Prem-1stApp-1Y
List Price:
$15,600.00
Our Price: $14,820.00
Application Protection, Premium, Each Additional Application, 1 Year
#AP-Prem-AddApp-1Y
List Price:
$3,600.00
Our Price: $3,420.00
Application Protection, Premium, 10Mbps Additional Bandwidth, 1 Year
#AP-Prem-10Mbps-1Y
List Price:
$4,080.00
Our Price: $3,876.00