Barracuda Message Archiver for Amazon Web Service

Message Archiving in Amazon Web Services

Barracuda Message Archiver for Amazon Web Services
Amazon Web Services Virtual Subscription
Barracuda Message Archiver for Amazon Web Services Level 1 Virtual Subscription
#BMACAW001a-v
List Price:
$2,160.00
Our Price: $2,052.00
Amazon Web Services Mirrored Cloud Storage Subscription
Barracuda Message Archiver for Amazon Web Services Level 1 Mirrored Cloud Storage Subscription 1 Year
#BMACAW001a-b
List Price:
$577.20
Our Price: $548.34
If you are currently working with another reseller you may not be eligible to receive any promotional items with your purchase. Please contact us before placing your order. BarraGuard.com reserves the right to deny free promotional items on any purchase.
Click here to jump to more pricing!
Overview:
Moving your IT Infrastructure to the Cloud? Running on Amazon Web Services?
Barracuda Networks is your partner for various kinds of deployments in Amazon Web Services. We understand your IT needs and provide best-of-breed solutions for firewalling, load balancing, web application security, and email security in the public cloud.
Barracuda Networks and Amazon Web Services
Today, many organizations are looking to the cloud to take advantage of the economic gains and operational efficiencies inherent to non-hardware-based solutions. While migrating to the cloud means companies need to adjust to new security threats, the ability to scale according to business needs means that AWS offers a powerful value proposition. The pay-as-you go model Amazon uses enables businesses of all sizes to access just the AWS services they need, and no more.
In the cloud, companies need security that can compensate for a broader attack surface and a new array of threat vectors. As Amazon seeks to provide more options for hybrid cloud and pay-as-you-go subscriptions, Barracuda's security services have moved hand-in-hand with Amazon's values. Not only is Barracuda committed to providing total threat protection to AWS customers, but we're taking steps to emulate Amazon's methodologies within our product offerings. Barracuda and Amazon work well together because we have the same end user in mind: A person Amazon calls the "whole stack professional" and Barracuda describes as a "mid-market IT professional who wears a lot of hats."
Barracuda Message Archiver
The Barracuda Message Archiver is ideal for organizations looking to reduce their email storage requirements and boost user productivity with mobile or desktop access to any message ever sent or received. The Barracuda Message Archiver also provides a powerful, yet simple platform for eDiscovery and compliance - all delivered as a virtual appliance so you can deploy into Amazon Web Services without requiring additional hardware.
The Barracuda Advantage
No per-user or per-server fees
Mobile applications for anytime/anywhere access
Outlook Add-in for combined mailbox and archive search
Automated discovery and import of PSTs
Attachment and whole message stubbing
Single solution for email and instant message archiving
Product Spotlight
All-in-one, cloud-connected message archiving appliance
Improves mobile user access and productivity
Eliminates need for PSTs
Reduces email storage costs
Federated Search simplifies eDiscovery and compliance
Cloud-Connected Archiving

The cloud-connected Barracuda Message Archiver uses the Barracuda Cloud to move or copy data to the cloud. Setting policies in "mirror" mode replicates all data to the cloud for disaster recovery purposes. Setting the policy to "Rotate" mode allows the appliance to scale-up and use the cloud as a secondary tier of storage.

Simplify Email Management

Users treat mailboxes as filing cabinets, driving expensive server storage to expand continually. They respond to storage limits by archiving messages locally with PSTs, which are not managed (or even seen) by IT. The Barracuda Message Archiver dramatically reduces demand for email server storage through attachment stubbing, message/ attachment deduplicaton, and compression, while also eliminating the need for PSTs.

Streamline eDiscovery and Compliance

The Barracuda Message Archiver's indexed archive supports extensive search, auditing/ permissions, legal hold, and export helping facilitate eDiscovery and retention. An intuitive interface and powerful feature set shortens response time to ensure messages are found easily when needed. Federated search lets users search across appliances and cloud-based data even when email services are unavailable.
Deployment:
Users can search and retrieve archived messages anywhere, anytime.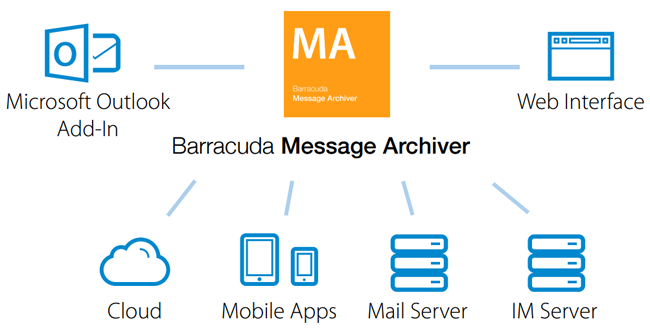 Model Comparison:
150
350
450
650
850
950
1050
Capacity
Maximum Users
100
300
600
1,200
2,500
4,000
10,000
Storage Capacity
500 GB
2 TB
4 TB
8 TB
18 TB
28 TB
66 TB
Cloud Storage
Supported Platforms
Compatible with: Microsoft (Exchange, Skype for Business, Lync, Office 365), Google Apps, Novell GroupWise, IBM Lotus Notes
Features
High Availability
Stackable Appliances
Customizable Branding
Technical Specs

Archiving
SMTP messages, Exchange calendar, tasks and contacts
Skype for Business (Lync) conversations
Network crawling for PST import
Reports: volume, storage utilization, violations, usage
Mirror and extend storage to the cloud
Stack multiple appliances for increased storage and deployment flexibility


User Access
Full-featured, robust mobile apps (iOS, Android)
Outlook add-in
Web interface
Quickly restore messages with Resend to Me


Integration
Exchange journaling
Import from Exchange (MAPI)
Import via IMAP and POP3
Export via PST or EML
Export to CudaDrive
Cloud email services (Office 365, Google Apps) via Cloud Relay
Integration with LDAP


Virtual Appliance




Management
Predefined roles
Granular control for access and policy
Domain-level auditor
Standard and custom policies
– Foul language
– Personal email use
– Personally identifiable information
Violation alert digests
Retention policies
Legal hold


Message Search
Full text search with multiple operators
Metadata, contents, attachments
Reusable saved search
Tagging
Federated search across appliances and cloud
Reply to, forward and export messages


Efficiency
Exchange stubbing
Deduplication
Compression
PST consolidation
Support Options


Barracuda Energize Updates
Standard technical support
Policy definition updates
Document definition updates
Virus definition updates
Security updates
Pricing Notes:
Pricing and product availability subject to change without notice.
Barracuda Message Archiver for Amazon Web Services
Amazon Web Services Virtual Subscription
Barracuda Message Archiver for Amazon Web Services Level 1 Virtual Subscription
#BMACAW001a-v
List Price:
$2,160.00
Our Price: $2,052.00
Barracuda Message Archiver for Amazon Web Services Level 3 Virtual Subscription
#BMACAW003a-v
List Price:
$5,520.00
Our Price: $5,244.00
Barracuda Message Archiver for Amazon Web Services Level 4 Virtual Subscription
#BMACAW004a-v
List Price:
$9,960.00
Our Price: $9,462.00
Barracuda Message Archiver for Amazon Web Services Level 6 Virtual Subscription
#BMACAW006a-v
List Price:
$16,800.00
Our Price: $15,960.00
Barracuda Message Archiver for Amazon Web Services Level 8 Virtual Subscription
#BMACAW008a-v
List Price:
$33,600.00
Our Price: $31,920.00
Barracuda Message Archiver for Amazon Web Services Level 9 Virtual Subscription
#BMACAW009a-v
List Price:
$50,400.00
Our Price: $47,880.00
Barracuda Message Archiver for Amazon Web Services Level 10 Virtual Subscription
#BMACAW010a-v
List Price:
$110,400.00
Our Price: $104,880.00
Amazon Web Services Mirrored Cloud Storage Subscription
Barracuda Message Archiver for Amazon Web Services Level 1 Mirrored Cloud Storage Subscription 1 Year
#BMACAW001a-b
List Price:
$577.20
Our Price: $548.34
Barracuda Message Archiver for Amazon Web Services Level 3 Mirrored Cloud Storage Subscription 1 Year
#BMACAW003a-b
List Price:
$1,560.00
Our Price: $1,482.00
Barracuda Message Archiver for Amazon Web Services Level 4 Mirrored Cloud Storage Subscription 1 Year
#BMACAW004a-b
List Price:
$2,640.00
Our Price: $2,508.00
Barracuda Message Archiver for Amazon Web Services Level 6 Mirrored Cloud Storage Subscription 1 Year
#BMACAW006a-b
List Price:
$4,440.00
Our Price: $4,218.00
Barracuda Message Archiver for Amazon Web Services Level 8 Mirrored Cloud Storage Subscription 1 Year
#BMACAW008a-b
List Price:
$8,760.00
Our Price: $8,322.00
Barracuda Message Archiver for Amazon Web Services Level 9 Mirrored Cloud Storage Subscription 1 Year
#BMACAW009a-b
List Price:
$13,200.00
Our Price: $12,540.00
Barracuda Message Archiver for Amazon Web Services Level 10 Mirrored Cloud Storage Subscription 1 Year
#BMACAW010a-b
List Price:
$30,000.00
Our Price: $28,500.00