Barracuda Message Archiver 350 Vx Virtual Appliance

Cloud-Connected Message Archiving for Efficiency and eDiscovery

Click here to jump to more pricing!

Barracuda Networks Message Archiver Overview:
The Barracuda Message Archiver helps organizations reduce email storage requirements, meet demanding compliance requirements, and address e-discovery requests easily and effectively. Integration with the Barracuda Cloud provides secure long-term email storage and backup, and end user productivity increases with access from any device to every message ever sent or recieved.
The Barracuda Advantage
Simple per-appliance pricing
Deployment options for on-premises, private and public cloud
Outlook Add-in for combined mailbox and archive search
Mobile apps for access from Android and iOS
Automated discovery and import of PST files
Product Spotlight
All-in-one cloud-connected archiving solution
Reduces email storage costs and eliminates need for PST files
Granular retention, search, and legal hold
Role-based search simplifies e-discovery
Comprehensive audit trail demonstrates compliance
Cloud-Connected Archiving

The Barracuda Message Archiver is a fully integrated and cloud-connected archiving solution for Exchange, Office 365 and other email services, and is available as a hardware appliance or as a virtual solution for private or public cloud. It can mirror data to the Barracuda Cloud for secure long-term retention and storage, or to facilitate disaster recovery.

Simplify Email Management

Email server storage demand is dramatically reduced using the Barracuda Message Archiver full message compression, deduplication, and stubbing, keeping end users within storage limits and eliminating the need for PST files. Granular retention policies ensure that original data is kept for as long as needed without risk of amendment or deletion, and end users are able to recover any message ever sent or received.

Streamline eDiscovery and Compliance

Barracuda Message Archiver's fully indexed archive, iterative multi-level search capabilities, and legal hold support complex audit and discovery exercises, with federated search supporting data across multiple appliances and the Barracuda Cloud. An intuitive role-based user interface gives secure access and shortens the response time to find specific messages when needed, while comprehensive audit trails make compliance easy to demonstrate.
Retain and retrieve all email communication while reducing storage requirements.
The Barracuda Message Archiver is ideal for organizations looking to reduce their email storage requirements and boost user productivity with mobile or desktop access to any email ever sent or received. The cloud-connected appliance uses the Barracuda Cloud to move information to the cloud as a secondary tier of storage. In addition, the Barracuda Message Archiver also provides a powerful, yet simple platform for eDiscovery and compliance.
Users can search and retrieve archived email anywhere, anytime: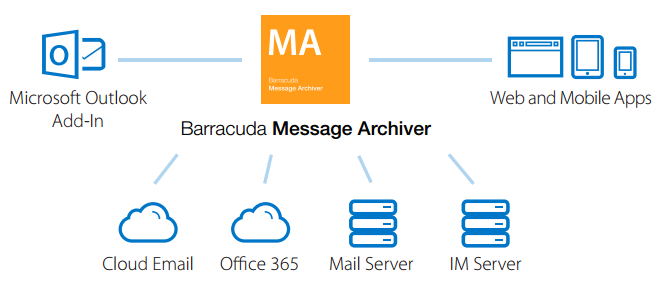 Pricing Notes:
Please Note: Energize Updates and Instant Replacement Subscriptions need to be maintained for every Barracuda Product. All subscriptions are continuous and must start from the date of activation. Renewals purchases are continuous and start from the date of expiration of your current subscriptions. No exceptions.
Benefitis of Energize Updates:

Basic Support, which includes email support 24x7 and phone support between the hours of 9 a.m. and 5 p.m. Monday through Friday in the US (Pacific Time), Japan, China, Austria and the United Kingdom time zones.
Firmware Maintenance which includes new firmware updates with feature enhancements and bug fixes.
Security Updates to patch or repair any security vulnerabilities.
Optional participation in the Barracuda Early Release Firmware program.

Benefits of Instant Replacement:

Enhanced Support which provides phone and email support 24x7.
Data migration service for Barracuda Spam & Virus Firewalls. Barracuda Networks will assist movement of data and configuration from the old product to the new product if the old data is accessible.
Data recovery service for Barracuda Backup Servers. In the event of a disaster and upon request, Barracuda Networks will preload the most recent data and configuration stored by Barracuda Networks to the new product (note this may take additional time).
Hard Disk replacement on Barracuda Networks models that have swappable raid drives. Barracuda Networks will ship via standard shipping a hard disk replacement. Customer must return the failed hard disk to Barracuda Networks.
Barracuda Products
Message Archiver 350 Vx Virtual Appliance
Barracuda Message Archiver Virtual License 350 Subscription
#BMAV350a-v
List Price:
$6,960.00
Our Price: $6,612.00
Message Archiver 350 Vx Virtual Appliance Premium Support
Barracuda Message Archiver Virtual License 350 Premium Support Subscription 1 Year
#BMAV350a-p
List Price:
$1,560.00
Our Price: $1,482.00
Barracuda Message Archiver Mirrored Cloud Storage
The metered cloud storage subscriptions (BMAxxxb1) provide 1 TB of cloud storage. The mirrored cloud storage subscriptions (BMAa­b1) provide the same amount of cloud storage as the local storage on the appliance. For example, for a BMA350 with 2 TB of local storage, the corresponding BMA350­b1 subscription will also provide 2 TB of cloud storage. Customers can mix and match the two plans, as well as purchase multiple quantities.
Barracuda Message Archiver Virtual License 350 Mirrored Cloud Storage Subscription 1 Year
#BMAV350a-b
List Price:
$2,040.00
Our Price: $1,938.00
Barracuda PST Enterprise for Message Archiver Vx
Barracuda PST Enterprise for Message Archiver 350 Vx
#BMAV350a-pst
List Price:
$3,000.00
Our Price: $2,850.00