Barracuda CloudGen Firewall Secure Access Concentrator for Microsoft Azure

Protecting your Digital Assets in Microsoft Azure

Barracuda Products
Microsoft Azure Account - NextGen Access Concentrator ACC400
Barracuda Secure Access Controller for Microsoft Azure ACC400 Virtual Subscription
#BNACCAZ400a-v
List Price:
$750.00
Our Price: $712.50
If you are currently working with another reseller you may not be eligible to receive any promotional items with your purchase. Please contact us before placing your order. BarraGuard.com reserves the right to deny free promotional items on any purchase.
Click here to jump to more pricing!
Overview: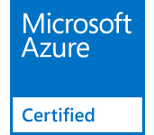 Growth in cloud computing capabilities and services has driven more data into places where traditional IT security measures cannot reach; specifically, data centers not owned by your corporate IT group. The Barracuda CloudGen Firewall F-Series provides centralized management and highly secure, encrypted traffic to, from, and within Microsoft Azure deployments.
Moving your IT Infrastructure to the Cloud? Utilizing Microsoft Office 365? Running on Microsoft Azure?
Barracuda Networks is your partner for various kinds of deployments in Microsoft Azure. We understand your IT needs and we're acknowledged as "Microsoft Partner – Gold Application Development." We are also "Microsoft Azure Certified."
Barracuda Networks and Microsoft Azure
Barracuda Networks was the first Microsoft Azure Certified Security Solution Provider. The Microsoft Azure Certification assures that the Barracuda Solutions have been tested for readiness and compatibility with Microsoft Azure public cloud, Microsoft Cloud Platform hosted by service providers through the Cloud OS Network, and on-premises private cloud Windows Server Hyper-V deployments.
The Microsoft Azure Certification brings customers several benefits
Time of deployment is cut by 50-80%
Ease of deployment increased by 90%
Deployment bandwidth requirements are reduced to near-zero
Current and future Barracuda on Microsoft Azure products allow both evaluation and purchased licenses at deployment time
Microsoft works closely with Barracuda engineering, solutions architects and sales teams to create a great customer experience and make it easy for customers to leverage the Barracuda CloudGen Firewall, Barracuda Spam Firewall and Barracuda Web Application Firewall to move their applications into the Azure cloud securely.
The Barracuda Spam Firewall and Barracuda Message Archiver offer best-of-breed email management, archiving, and security for organizations utilizing Microsoft Office 365. And there is more to come – stay tuned and learn about the latest innovations from Barracuda Networks and Microsoft Azure.
Moving Your Physical Data Center to the Cloud?
Get Secure Connectivity with Visibility and Control with the industry's most advanced next-generation firewall solution for Microsoft Azure. The Barracuda CloudGen Firewall ensures highly secure, encrypted traffic from, to, and within Microsoft Azure, providing secure remote and site-to-site access, and centralized management.
The growth in cloud computing capabilities and services has driven more data into places where traditional IT security measures cannot reach - into data centers not owned by your corporate IT group. The Barracuda CloudGen Firewall provides centralized management and highly secure, encrypted traffic to, from, and within Microsoft Azure deployments. Securing applications and data in Microsoft Azure is far easier with tools that are dedicated to the task. Deploying the Barracuda CloudGen Firewall in the cloud is very similar to running local network firewalls, and provides the advantages of common policy enforcement and distributed security management in a hybrid-IT environment. It provides next-generation firewalling and secure remote access to Microsoft Azure. It enables organizations to deploy sophisticated multi-zone network architecture in Microsoft Azure, just like their on-premises networks.
By using the proprietary high-performance VPN protocol extension TINA, the Barracuda CloudGen Firewall deployment enables secure high-speed site-to-site and client-to-site connectivity between on-premises networks and mobile-user devices, as well as connectivity between VNETs in Microsoft Azure. Best of all, it features the industry's best centralized management, ensuring highly scalable and fault tolerant network infrastructure required by today's users, without the management overhead. The Barracuda NextGen Control Center adds a powerful and intuitive centralized management portal that makes it extremely simple to deploy, configure, update, and manage multiple units from a single location, while also providing comprehensive, real-time network visibility and reporting.
The Barracuda Advantage
Quick rollout
Comprehensive reporting
Highly scalable
Fully compatible with Microsoft Azure
Product Spotlight
Powerful next-generation network firewall
Advanced Threat Detection
Built-in web security and IDS/IPS
Full application visibility and granular controls
Centralized management of all functionalities
Template-based and role-based configuration
Securing the Internet of Things

The Barracuda CloudGen Firewall F-Series is designed and built from the ground up to provide comprehensive, next-generation security while being simple to deploy and maintain, and highly scalable. Need to connect micro-offices, point of sales and machine-to-machine business? With the F-Series you're all set!

Easy to setup and maintain: SC1

The Secure Connector (SC1) is a hardware appliance purposebuilt to be an on-premises connectivity device that ensures high-performance and tamper-proof VPN connections to protect the data flow and, thus, guarantee data continuity.

Bundling the data stream: SAC

The Secure Access Concentrator is the collecting point for the data stream. This fully fledged CloudGen Firewall acts as VPN gateway for the SC1 deployments. SACs can be run on VMware, Hyper-V, XenServer, or KVM environments as well as directly in Microsoft Azure.

Grows with your needs

Integration within the Barracuda NextGen Control Center architecture ensures that your deployment can grow with your needs without technical or financial trapdoors. The template-based configuration ensures easy rollout of additional devices and maintain compliance.
Deployment:
The Secure Access Concentrator can be deployed in Azure and AWS if your FSCs are geographically dispersed and/or your backend systems hosted in Azure and/or AWS. The FSAC connects your Secure Connectors with your cloud resources and allows you to monitor the traffic between the FSC and the private subnets. If VPN connectivity is required, the FSAC is used in combination with an F-Series Firewall. You have two options for setting up the Secure Access Concentrator. The deployment steps are the same as the steps required for an on-premises FSAC.
FSAC and F-Series Firewall in the Public Cloud, Control Center located on-premises
In this scenario, the FSCs connect to the public IP address of the FSAC. In Azure, traffic to the backend subnets is routed over the F-Series Firewalls; in AWS, the FSAC connects directly to the backend subnets. The F-Series Firewall handles the VPN tunnels to the on-premises networks. Configuration data from the FSAC to the Control Center is sent through this site-to-site tunnel.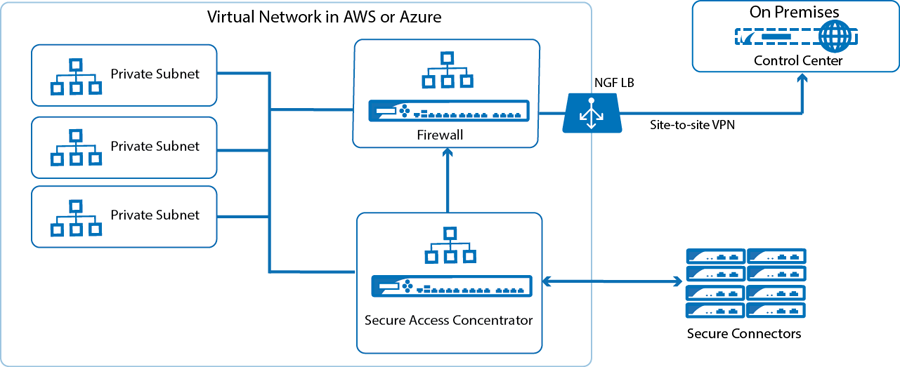 FSAC, F-Series Firewall, and Control Center in Azure and Amazon Web Services
The client connects to the public IP address of the FSAC. Traffic to the backend is routed either through the optional F-Series Firewalls, or directly to the backend subnets. The FSC can connect directly to the Control Center, which is located in another subnet. In Azure, the FSAC can also secure the traffic between the different backend subnets. An F-Series Firewall is required for site-to-site VPN connections to your on-premises networks.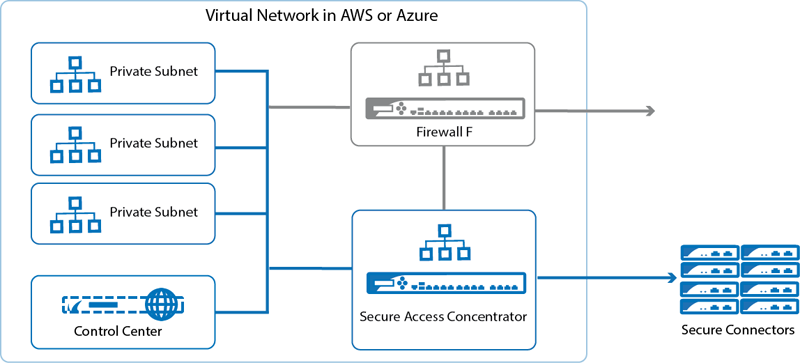 Model Comparison:
| SAC Editions1 | SAC400 | SAC610 | SAC820 |
| --- | --- | --- | --- |
| Number of Protected IPs | unlimited | unlimited | unlimited |
| Allowed Cores | 2 | 4 | 8 |
| Max. number of VPN Connections | 500 | 1,200 | 2,500 |
| Firewall & VPN Throughput | 1 Gbit/s | 2 Gbit/s | 4 Gbit/s |
| Firewall | | | |
| Application Control2 | | | |
| IPS2 | | | |
| Dynamic Routing | | | |
| VPN3 | | | |
| SSL Interception | | | |
| Web Filter | | | |
| Malware Protection4 | Optional | Optional | Optional |
| Advanced Threat Detection4,5 | Optional | Optional | Optional |
1 The Barracuda CloudGen Firewall F-Series SAC virtual image covers all editions.
2 Requires a valid Energize Updates subscription.
3 Barracuda CloudGen Firewall F-Series SAC editions include as many VPN licenses as the number of protected IPs. VPN clients with an active connection to the Barracuda CloudGen Firewall F-Series SAC are counted towards the protected IP limits.
4 Including FTP, mail and Web protocols.
5 Requires a valid Malware Protection subscription.
Technical Specs


Firewall
Stateful packet inspection and forwarding
Full user-identity awareness
Intrusion Detection and Prevention System (IDS/IPS)
Application control and granular application enforcement
Interception and decryption of SSL/ TLS encrypted applications
Antivirus and web filtering in single pass mode
SafeSearch enforcement
YouTube for Schools support
Denial of Service protection (DoS/DDoS)
Spoofing and flooding protection
ARP spoofing and trashing protection
DNS reputation filtering
TCP stream reassembly
NAT (SNAT, DNAT), PAT
Dynamic rules / timer triggers
Single object-oriented rule-set for routing, bridging, and routed bridging
Virtual rule test environment


Hypervisor and Public Support (for SAC and NextGen Control Center)
VMware
Hyper-V
XenServer
KVM
Microsoft Azure


Intrusion Detection & Prevention
Protection against exploits, threats and vulnerabilities
Packet anomaly and fragmentation protection
Advanced anti-evasion and obfuscation techniques
Automatic signature updates




Advanced Threat Detection
Dynamic, on-demand analysis of malware programs (sandboxing)
Dynamic analysis of documents with embedded exploits (PDF, Office, etc.)
Detailed forensics for both malware binaries and web threats (exploits)
Support for multiple operating systems (Windows, Android, etc.)
Flexible malware analysis in the cloud


VPN
Secure site-to-site
Supports AES-128/256, 3DES, DES, Blowfish, CAST, null ciphers


High Availability
Active-passive
Transparent failover without session loss
Network notification of failover
Encrypted HA communication


Central Management Options
Barracuda NextGen Control Center
– Unlimited SACs and SC1s
– Support for multi-tenancy
– Multi-administrator support & RCS

Protocol Support
IPv4
BGP/OSPF/RIP
VoIP (H.323, SIP, SCCP [skinny])
RPC protocols (ONC-RPC, DCE-RPC)
802.1q VLAN
Support Options


Barracuda Energize Updates
Standard technical support
Firmware updates
IPS signature updates
Application control definition updates
Online web filter
Security Options
Advanced Threat Detection
Malware Protection
Video:
Watch this video on building secure multi-tier architectures in Azure
Pricing Notes:
Pricing and product availability subject to change without notice.
Barracuda Products
Microsoft Azure Account - NextGen Access Concentrator ACC400
Barracuda Secure Access Controller for Microsoft Azure ACC400 Virtual Subscription
#BNACCAZ400a-v
List Price:
$750.00
Our Price: $712.50
Microsoft Azure Account - NextGen Access Concentrator ACC610
Barracuda Secure Access Controller for Microsoft Azure ACC610 Virtual Subscription
#BNACCAZ610a-v
List Price:
$2,280.00
Our Price: $2,166.00
Microsoft Azure Account - NextGen Access Concentrator ACC820
Barracuda Secure Access Controller for Microsoft Azure ACC820 Virtual Subscription
#BNACCAZ820a-v
List Price:
$8,880.00
Our Price: $8,436.00
Microsoft Azure Account - NextGen Access Concentrator ACC400 - Premium Support
Barracuda Secure Access Controller for Microsoft Azure ACC400 Premium Support Subscription 1 Year
#BNACCAZ400a-p
List Price:
$103.20
Our Price: $98.04
Microsoft Azure Account - NextGen Access Concentrator ACC610 - Premium Support
Barracuda Secure Access Controller for Microsoft Azure ACC610 Premium Support Subscription 1 Year
#BNACCAZ610a-p
List Price:
$288.00
Our Price: $273.60
Microsoft Azure Account - NextGen Access Concentrator ACC820 - Premium Support
Barracuda Secure Access Controller for Microsoft Azure ACC820 Premium Support Subscription 1 Year
#BNACCAZ820a-p
List Price:
$1,142.40
Our Price: $1,085.28
Microsoft Azure Account - NextGen Access Concentrator ACC820 - Malware Protection
Barracuda Secure Access Controller for Microsoft Azure ACC400 Malware Protection Subscription 1 Year
#BNACCAZ400a-m
List Price:
$115.20
Our Price: $109.44
Microsoft Azure Account - NextGen Access Concentrator ACC610 - Malware Protection
Barracuda Secure Access Controller for Microsoft Azure ACC610 Malware Protection Subscription 1 Year
#BNACCAZ610a-m
List Price:
$300.00
Our Price: $285.00
Microsoft Azure Account - NextGen Access Concentrator ACC820 - Malware Protection
Barracuda Secure Access Controller for Microsoft Azure ACC820 Malware Protection Subscription 1 Year
#BNACCAZ820a-m
List Price:
$1,320.00
Our Price: $1,254.00
Microsoft Azure Account - NextGen Access Concentrator ACC820 - Advanced Threat Protection
Barracuda Secure Access Controller for Microsoft Azure ACC400 Advanced Threat Protection Subscription 1 Year
#BNACCAZ400a-a
List Price:
$150.00
Our Price: $142.50
Microsoft Azure Account - NextGen Access Concentrator ACC610 - Advanced Threat Protection
Barracuda Secure Access Controller for Microsoft Azure ACC610 Advanced Threat Protection Subscription 1 Year
#BNACCAZ610a-a
List Price:
$438.00
Our Price: $416.10
Microsoft Azure Account - NextGen Access Concentrator ACC820 - Advanced Threat Protection
Barracuda Secure Access Controller for Microsoft Azure ACC820 Advanced Threat Protection Subscription 1 Year
#BNACCAZ820a-a
List Price:
$1,800.00
Our Price: $1,710.00
Microsoft Azure Account - NextGen Access Concentrator ACC820 - Advanced Remote Access
Barracuda Secure Access Controller for Microsoft Azure ACC820 Advanced Remote Access Subscription 1 Year
#BNACCAZ820a-vp
List Price:
$2,520.00
Our Price: $2,394.00