Barracuda Web Security Gateways

Making Web Browsing Safe for Business
Protect your business from web-based cyber-threats.
Filter Content, Malware, Social Media and Rogue App Threats
The Barracuda Web Security Gateway lets organizations benefit from online applications and tools without exposure to web-borne malware and viruses, lost user productivity, and misused bandwidth. As a comprehensive solution for web security and management, it unites award-winning spyware, malware, and virus protection with a powerful policy and reporting engine.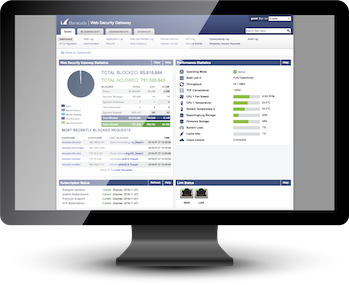 Barracuda Web Security Gateways
10 Mbps Throughput
100 Concurrent Users
Desktop Form Factor

350 Mbps Throughput
400 Concurrent Users
1U Mini Form Factor

750 Mbps Throughput
800 Concurrent Users
1U Mini Form Factor

1,700 Mbps Throughput
8,000 Concurrent Users
1U Fullsize Form Factor

3,500 Mbps Throughput
16,500 Concurrent Users
2U Fullsize Form Factor
3,800 Mbps Throughput
20,000 Concurrent Users
2U Fullsize Form Factor
---
Barracuda Virtual Web Security Gateways

100-400 Concurrent Users
2 CPU Cores Allowed
10-50 Mbps Throughput
400-1,600 Active TCP Connections

300-800 Concurrent Users
4 CPU Cores Allowed
30-80 Mbps Throughput
1,600-3,200 Active TCP Connections

800-2,000 Concurrent Users
6 CPU Cores Allowed
70-150 Mbps Throughput
3,200-8,000 Active TCP Connections
---
Overview
To stay competitive in today's connected world, you and your team need to interact constantly with web-based resources and applications. Unfortunately, the web is also a vector for malware and advanced threats — not to mention the additional risks of lost productivity and wasted bandwidth.
Barracuda Web Security Gateway lets you enjoy the benefits of web connectivity without the risks. Use dozens of predefined content-filtering categories, or take granular control over web application activity down to the individual user. Integrated social-network activity monitor and antivirus keeps you safe — and the available Advanced Threat Protection uses cloud-based analysis to find and block unknown and zero-day threats before they reach your network.
Constantly evolving capabilities
Barracuda Web Security Gateway is continually updated with the latest malware signatures, suspicious URL listings, and online application functionality. And as new requirements emerge — such as the need to monitor and regulate social-networking activities — upgrading with new capabilities is automatic, and always transparent.
Knowledge is power
Barracuda Web Security Gateway's intuitive management interface delivers detailed, real-time visibility into network activity and web interactions. This lets you identify users and applications that waste bandwidth and harm productivity, and enforce granular policies to regulate access without impacting legitimate business uses.
Security without boundaries
Enforcing access policies on remote devices that are used off-network is critical for preventing malware intrusions into the network, and for preventing data loss. Barracuda Web Security Gateway includes unlimited licenses for agents and tools that ensure users and devices are protected whenever they access the web — whether they're on or off your network.