Barracuda CloudGen Firewall VF1000

Next-Generation Firewalls for Distributed Enterprises with Advanced Threat Detection

Barracuda Products
Barracuda Networks Energize Updates for VF1000
Energize Updates include Basic Support (Email 24x7, Phone 9am-5pm PST), Firmware Maintenance and Updates, Security Updates, and optional participation in the Barracuda Early Release Firmware program.
(RENEWAL ONLY) Barracuda CloudGen Firewall Virtual License F1000 Energize Updates Subscription 1 Year
#BNGVF1000a-e
List Price:
$1,920.00
Our Price: $1,824.00
Click here to jump to more pricing!
Barracuda CloudGen Firewall F-Series Vx:
Enterprise networks grow larger and more complex every day - and more critical to key business operations. Barracuda CloudGen Firewall F-Series Vx is an essential tool to optimize the performance, security, and availability of today's dispersed enterprise WANs.
The Barracuda Advantage
Effective WAN Management

Application-based traffic prioritization across the WAN
Intelligent uplink balancing
Intelligent traffic reprioritization on uplink loss

Enterprise Readiness

Industry-leading centralized management
WAN optimization
Global WAN monitoring with Barracuda NG Earth

Scalable Security

Cloud Enablement and secure WAN Virtualization
Drag-and-drop VPN graphical tunnel interface
Product Spotlight
Powerful next-generation network firewall
Advanced Threat Detection
Built-in web security and IDS/IPS
Dynamic mesh site-to-site VPN
Client-to-Site VPN via browser (SSL VPN), mobile apps and desktop VPN clients
Full application visibility and granular control
Intelligent traffic regulation including application-based provider selection
Tightly integrated Quality of Service (QoS) and link balancing
Centralized management of all functionality
Template-based and role-based configuration
Available for VMware, XenServer, KVM, and Hyper-V
Integrated Next-Generation Security

Barracuda CloudGen Firewall F-Series Vx is designed and built from the ground up to provide comprehensive, nextgeneration firewall capabilities. Based on application visibility, user-identity awareness, intrusion prevention, and centralized management, the CloudGen Firewall F-Series Vx is the ideal solution for today's dynamic enterprises as it is fully compatible with VMware, XenServer, KVM, and Hyper-V virtualization.

Regaining Control of User Activity

Barracuda CloudGen Firewall F-Series Vx restores control to networks made opaque and unmanageable by mobile devices at work, Web 2.0 applications, increasing dispersion, and the growing integration and dependence on cloudbased resources. It extends security coverage beyond network boundaries, and makes it easy to monitor and regulate everything the network and its users are doing

True Enterprise Readiness

Barracuda CloudGen Firewall F-Series Vx meets the enterprise requirements for massive scalability and efficient management across dispersed networks. Integrated WAN optimization and centralized management enable organizations to increase system availability while keeping administrative time and operation costs low.


The Barracuda CloudGen Firewall dashboard provides real-time information and summaries of what is going on in an organization's network.
Improving Performance, Availability, and Security of Distributed Networks
As organizations turn to virtualization as a way to save money, simplify deployments and reduce their environmental footprint, Barracuda Networks is offering virtual appliance versions of the Barracuda Spam & Virus Firewall and Barracuda SSL VPN with additional solutions to follow.
Virtual appliances enable enterprises to harness the same powerful security and networking technologies available in the Barracuda Networks range of hardware based solutions. Barracuda Networks virtual appliances are an ideal choice for enterprises that are standardizing hardware platforms or with existing virtual environments like VMware. As the organization grows, these appliances can be easily scaled for performance and capacity and also lend themselves to quicker backup and disaster recovery.
The virtual appliances combined with industry leading storage, security and networking hardware appliances from Barracuda Networks provide flexible deployment options to meet the unique needs of small, medium and large enterprises.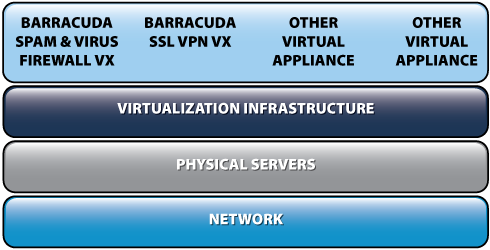 Cost Savings and Power Make this the Right Choice
More than a firewall, the Barracuda CloudGen Firewall Vx delivers the power of a network security gateway. This virtual solution replaces several essential network security and networking infrastructure components — cutting costs while streamlining architecture and management. By combining advanced perimeter and application security with advanced LAN and WAN management tools, the Barracuda CloudGen Firewall Vx provides a simplified, unified framework for managing total connectivity and security. Integrated with LDAP and Active Directory, the Barracuda CloudGen Firewall lets administrators create granular user-based policies across security, application and connectivity services with unrivaled ease and power.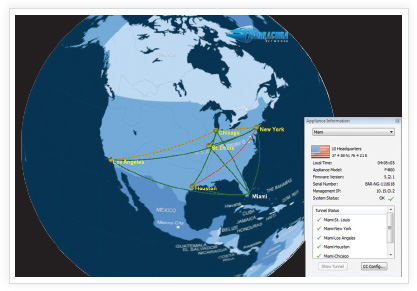 The Barracuda CloudGen Firewall Control Center provides centralized, real-time monitoring of all the firewalls across the enterprise.
Security
Integrating application and user awareness with an advanced network firewall, the Barracuda CloudGen Firewall Vx protects network layers 2 - 7. Deep packet inspection and behavioral analysis accurately detect threats and activity from over 800 applications and protocols. It also provides IPS, antivirus, antispam, NAC, DoS protection and web filtering for layered protection.
Connectivity
The Barracuda CloudGen Firewall Vx intelligently manages network links while also providing site-to-site VPNs and an SSL VPN for secure remote access. Its built in WAN optimization and uplink optimization capabilities prioritize important traffic while substantially reducing line cost.
Management
The Barracuda NextGen Control Center delivers instant information on system and security activity while keeping security and networking features quickly accessible. At a higher level, the Barracuda NextGen Control Center extends consistent policies and visibility of Barracuda CloudGen Firewall Vx's across the enterprise. With the NG Earth and the graphic tunnel editor GUIs, managing connectivity has never been more straightforward.
Easy to Use
Easy to remotely download and install in hosts around the world, Barracuda CloudGen Firewall Vx is fast and easy to deploy. The intuitive UI puts system information and powerful tools for LAN and WAN management as well as security at administrators' fingertips. Energize Updates automatically keep security subscriptions like IPS and web filter up to date.
Affordable
The Barracuda CloudGen Firewall Vx cuts costs several ways: It replaces several infrastructure components with one virtual appliance. Easy to manage, it keeps admin costs low. It lowers bandwidth costs by limiting bandwidth intense applications while using link aggregation with traffic shaping to further reduces bandwidth costs.
Pricing Notes:
Please Note: Energize Updates and Instant Replacement Subscriptions need to be maintained for every Barracuda Product. All subscriptions are continuous and must start from the date of activation. Renewals purchases are continuous and start from the date of expiration of your current subscriptions. No exceptions.
Benefitis of Energize Updates:

Basic Support, which includes email support 24x7 and phone support between the hours of 9 a.m. and 5 p.m. Monday through Friday in the US (Pacific Time), Japan, China, Austria and the United Kingdom time zones.
Firmware Maintenance which includes new firmware updates with feature enhancements and bug fixes.
Security Updates to patch or repair any security vulnerabilities.
Optional participation in the Barracuda Early Release Firmware program.

Benefits of Instant Replacement:

Enhanced Support which provides phone and email support 24x7.
Data migration service for Barracuda Spam & Virus Firewalls. Barracuda Networks will assist movement of data and configuration from the old product to the new product if the old data is accessible.
Data recovery service for Barracuda Backup Servers. In the event of a disaster and upon request, Barracuda Networks will preload the most recent data and configuration stored by Barracuda Networks to the new product (note this may take additional time).
Hard Disk replacement on Barracuda Networks models that have swappable raid drives. Barracuda Networks will ship via standard shipping a hard disk replacement. Customer must return the failed hard disk to Barracuda Networks.
Barracuda Products
Barracuda Networks Energize Updates for VF1000
Energize Updates include Basic Support (Email 24x7, Phone 9am-5pm PST), Firmware Maintenance and Updates, Security Updates, and optional participation in the Barracuda Early Release Firmware program.
(RENEWAL ONLY) Barracuda CloudGen Firewall Virtual License F1000 Energize Updates Subscription 1 Year
#BNGVF1000a-e
List Price:
$1,920.00
Our Price: $1,824.00
Barracuda Networks Premium Support for VF1000
(RENEWAL ONLY) Barracuda CloudGen Firewall Virtual License F1000 Premium Support Subscription 1 Year
#BNGVF1000-p
List Price:
$2,280.00
Our Price: $2,166.00
Barracuda Networks Malware Protection for VF1000
(RENEWAL ONLY) Barracuda CloudGen Firewall Virtual License F1000 Malware Protection Subscription 1 Year
#BNGVF1000a-m
List Price:
$972.00
Our Price: $923.40
Barracuda Networks Advanced Remote Access for VF1000
(RENEWAL ONLY) Barracuda CloudGen Firewall Virtual License F1000 Advanced Remote Access Subscription 1 Year
#BNGVF1000a-vp
List Price:
$1,920.00
Our Price: $1,824.00
Barracuda Networks Advanced Threat Protection for VF1000
(RENEWAL ONLY) Barracuda CloudGen Firewall Virtual License F1000 Advanced Threat Protection Subscription 1 Year
#BNGVF1000a-a
List Price:
$2,040.00
Our Price: $1,938.00
Barracuda Networks Insights for VF1000
(RENEWAL ONLY) Barracuda CloudGen Firewall Virtual License F1000 Insights Subscription 1 Year
#BNGVF1000a-fi
List Price:
$732.00
Our Price: $695.40
Barracuda CloudGen Firewall Pool Virtual License for VF1000
(RENEWAL ONLY) Barracuda CloudGen Firewall Pool Virtual License VF1000 Advanced Threat Protection Subscription 1 Year
#BNGVF1000p-a
List Price:
$2,280.00
Our Price: $2,166.00
(RENEWAL ONLY) Barracuda CloudGen Firewall Pool Virtual License VF1000 Energize Updates Subscription 1 Year
#BNGVF1000p-e
List Price:
$2,040.00
Our Price: $1,938.00
(RENEWAL ONLY) Barracuda CloudGen Firewall Pool Virtual License VF1000 Insights Subscription 1 Year
#BNGVF1000p-fi
List Price:
$732.00
Our Price: $695.40
(RENEWAL ONLY) Barracuda CloudGen Firewall Pool Virtual License VF1000 Malware Protection Subscription 1 Year
#BNGVF1000p-m
List Price:
$1,044.00
Our Price: $991.80
(RENEWAL ONLY) Barracuda CloudGen Firewall Pool Virtual License F1000 Premium Support Subscription 1 Year
#BNGVF1000p-p
List Price:
$2,520.00
Our Price: $2,394.00
(RENEWAL ONLY) Barracuda CloudGen Firewall Pool Virtual License VF1000 Advanced Remote Access Subscription 1 Year
#BNGVF1000p-vp
List Price:
$2,040.00
Our Price: $1,938.00