Barracuda CloudGen Firewall for Amazon Web Service

Protecting your Digital Assets in Amazon Web Services

Barracuda CloudGen Firewall for Amazon Web Services
Amazon Web Services Account Level 1
(RENEWAL ONLY)

Barracuda CloudGen Firewall for Amazon Web Services Level 1 Virtual Subscription 1 Year
#BNGCAW001a-v
List Price:
$1,440.00
Our Price: $1,368.00
If you are currently working with another reseller you may not be eligible to receive any promotional items with your purchase. Please contact us before placing your order. BarraGuard.com reserves the right to deny free promotional items on any purchase.
Click here to jump to more pricing!
Overview:
The growth in cloud computing capabilities and services has driven more data into places where traditional IT security measures cannot reach - into data centers not owned by your corporate IT group. Beyond its powerful network firewall, IPS, and VPN technologies, the Barracuda CloudGen Firewall F-Series integrates a comprehensive set of next-generation firewall technologies, including comprehensive Application Control, Availability, and Quality of Services (QoS) features.
Moving your IT Infrastructure to the Cloud? Running on Amazon Web Services?
Barracuda Networks is your partner for various kinds of deployments in Amazon Web Services. We understand your IT needs and provide best-of-breed solutions for firewalling, load balancing, web application security, and email security in the public cloud.
Barracuda Networks and Amazon Web Services
Today, many organizations are looking to the cloud to take advantage of the economic gains and operational efficiencies inherent to non-hardware-based solutions. While migrating to the cloud means companies need to adjust to new security threats, the ability to scale according to business needs means that AWS offers a powerful value proposition. The pay-as-you go model Amazon uses enables businesses of all sizes to access just the AWS services they need, and no more.
In the cloud, companies need security that can compensate for a broader attack surface and a new array of threat vectors. As Amazon seeks to provide more options for hybrid cloud and pay-as-you-go subscriptions, Barracuda's security services have moved hand-in-hand with Amazon's values. Not only is Barracuda committed to providing total threat protection to AWS customers, but we're taking steps to emulate Amazon's methodologies within our product offerings. Barracuda and Amazon work well together because we have the same end user in mind: A person Amazon calls the "whole stack professional" and Barracuda describes as a "mid-market IT professional who wears a lot of hats."
Move Your Physical Data Center to the Cloud with Amazon Web Services
Get Secure Connectivity with Visibility and Control by using the industry's most advanced next-generation firewall solution for deployments in Amazon Web Services. The Barracuda CloudGen Firewall ensures highly secure, encrypted traffic from, to, and within AWS, provides secure remote and site-to-site access, and centralized management.
The growth in cloud computing capabilities and services has driven more data into places where traditional IT security measures cannot reach - into data centers not owned by your corporate IT group. Securing applications and data in AWS is far easier with tools that are dedicated to the task. Deploying the Barracuda CloudGen Firewall in the cloud is very similar to running local network firewalls, and provides the advantages of common policy enforcement and distributed security management in a hybrid-IT environment. It provides next generation firewalling and secure remote access to AWS. It enables organizations to deploy sophisticated multi-zone network architecture in the cloud, just like their on-premises networks. By using the proprietary high-performance VPN protocol extension TINA (Transport Independent Network Architecture), the Barracuda CloudGen Firewall deployment enables secure high speed site-to-site and client-to-site connectivity between on-premises networks and mobile-user devices. The Barracuda NextGen Control Center adds a powerful and intuitive centralized management portal that makes it extremely simple to deploy, configure, update, and manage multiple units from a single location, while also providing comprehensive, real-time network visibility and reporting.
The Barracuda Advantage
Secure and reliable connectivity between onpremises and Amazon Web Services deployments
Granular Application Control
Full User Awareness
Central management of all functionality for both, onpremises and Amazon Web Services deployments
Unrivaled Quality of Service capabilities
Product Spotlight
Powerful next-generation network firewall
Advanced Threat Detection
Built-in web security and IDS/IPS
Client-to-Site VPN via browser (SSL VPN), mobile apps and desktop VPN clients
Full application visibility and granular control
Intelligent traffic regulation including application-based provider selection
Tightly integrated Quality of Service (QoS) and link balancing
Centralized management of all functionality
Template-based and role-based configuration
Granular Application Control

The Barracuda CloudGen Firewall F-Series gives administrators granular control over applications, allowing them to define rules for forwarding data traffic using the best respective transmission channels based on type of application, user, content, time of day, and geographical location. The Barracuda CloudGen Firewall F-Series allows organizations to prioritize traffic by limiting or restricting access to non-business-related applications and network traffic, even when encrypted.

Integrated Next-Generation Security and Connectivity

The Barracuda CloudGen Firewall F-Series Intrusion Detection and Prevention System (IDS/IPS) strongly enhances network security by providing complete and comprehensive real-time network protection against a broad range of network threats, vulnerabilities, exploits, and exposures in operating systems, applications, and databases preventing network attacks such as SQL injections and arbitrary code executions.

The F-Series incorporates advanced site-to-site and client-to-site VPN capabilities, using both SSL and IPsec protocols to ensure remote users can easily and securely access network resources without complex client configuration and management.

Central Management

The Barracuda CloudGen Firewall F-Series benefits of the same industry-leading single-pane-of-glass central management as on-premises deployments do. Easily manage the secure VPN connections to, from, and within Amazon Web Services and the Barracuda CloudGen Firewall F-Series deployment itself.


The Barracuda CloudGen Firewall dashboard provides real-time information and summaries of what is going on in an organization's network.
Deployment:
The Barracuda CloudGen Firewall can run as a virtual appliance in the Amazon cloud as a gateway device for Amazon EC2 instances in an Amazon Virtual Private Cloud (VPC).
Follow the steps in this article to deploy the Barracuda CloudGen Firewall in an Amazon VPC.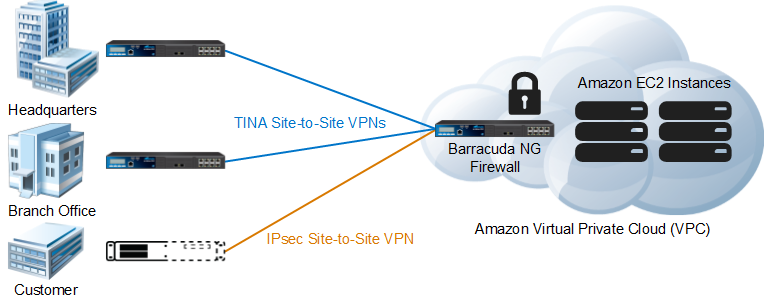 Model Comparison:
Barracuda CloudGen Firewall F-Series
Bring-Your-Own-License
Pay-As-You-Go License
AWS Compute Instance Name
T2.Small
C3.Medium
C3.Large
C3.XLarge
not restricted
Capacity
Level 2
Level 4
Level 6
Level 8
Virtual Cores
1
2
4
8
1 - 16
Max Number of Interfaces
2
2
4
4
4
Features
Firewall
Application Control
IPS
VPN (Site-to-Site and Client-to-Site)
SSL Interception
WAN Optimization
Network Access Control for VPN client-to-site connections
Malware Protection1
Optional
Optional
Optional
Optional
-
Advanced Threat Detection1, 2
Optional
Optional
Optional
Optional
-
Premium Remote Access
Optional
Optional
Optional
Optional
Premium Support3
-
-
-
1 Including FTP, mail and Web protocols
2 Requires Malware Protection subscription.
3 Premium Support ensures that an organization's network is running at its peak performance by providing the highest level of 24x7 technical support for missioncritical environments. For more information please visit https://www.barracuda.com/support/premium.
Technical Specs


Firewall
Stateful packet inspection and forwarding
Full user-identity awareness
Intrusion Detection and Prevention System (IDS/IPS)
Application control and granular application enforcement
Interception and decryption of SSL/TLS encrypted applications
Antivirus and web filtering in single pass mode
SafeSearch enforcement
Google Accounts Enforcement
Denial of Service protection (DoS /DDoS)
Spoofing and flooding protection
ARP spoofing and trashing protection
DNS reputation filtering
TCP stream reassembly
Transparent proxying (TCP)
NAT (SNAT, DNAT), PAT
Dynamic rules / timer triggers
Single object-oriented rule set for routing, bridging, and routed bridging
Virtual rule test environment


User Identity Awareness
Terminal Server Agent
Domain Controller Agent
Authentication – supports x.509, NTLM, RADIUS, RSA SecurID, LDAP/LDAPS, Active Directory, TACACS+, SMS Passcode (VPN), local authentication database


Intrusion Detection & Prevention
Protection against exploits, threats, and vulnerabilities
Packet anomaly and fragmentation protection
Advanced anti-evasion and obfuscation techniques
Automatic signature updates


Traffic Optimization
Link monitoring, aggregation, and failover
Dynamic routing
Application-based provider selection
Traffic shaping and QoS
On-the-fly flow reprioritization
Stream and packet compression
Byte-level data deduplication
WAN optimization (SMBv2)


VPN
Drag & drop VPN tunnel configuration
Secure site-to-site, client-to-site VPN
Supports AES-128/256, 3DES, DES, null ciphers
Private CA or external PKI
IPsec VPN / SSL VPN
VPNC certified (basic interoperability)
Application-aware traffic routing
PPTP / L2TP (IPSec)
Network Access Control
iOS and Android mobile device VPN support


Central Management Options
Barracuda NextGen Control Center
– Central administration of unlimited Barracuda CloudGen Firewalls
– Support for multitenancy
– Multi-administrator support and RCS


Advanced Threat Detection
Dynamic, on-demand analysis of malware programs (sandboxing)
Dynamic analysis of documents with embedded exploits (PDF, Office, etc.)
Detailed forensics for both, malware binaries and web threats (exploits)
Support for multiple operating systems (Windows, Android, etc.)
Botnet and Spyware Protection
Flexible malware analysis in the cloud


Infrastructure Services
SIP, HTTP, SSH, FTP proxies
SNMP and IPFIX support
DNS Cache
SMTP gateway and SPAM filter


Protocol Support
IPv4, IPv6, ARP
BGP/OSPF/RIP
VoIP (H.323, SIP, SCCP [skinny])
RPC protocols (ONC-RPC, DCE-RPC)
Support Options


Barracuda Energize Updates
Standard technical support
Firmware updates
IPS signature updates
Application control definition updates
Web filter updates
Security Options
Advanced Threat Detection
Malware Protection
Premium Remote Access subscription provides remote access via the CudaLaunch App for Windows, Mac OS X, iOS and Android devices
Pricing Notes:
Pricing and product availability subject to change without notice.
Barracuda CloudGen Firewall for Amazon Web Services
(RENEWAL ONLY)

Barracuda CloudGen Firewall for Amazon Web Services Level 1 Virtual Subscription 1 Year
#BNGCAW001a-v
List Price:
$1,440.00
Our Price: $1,368.00
Barracuda CloudGen Firewall for Amazon Web Services Level 2 Virtual Subscription 1 Year
#BNGCAW002a-v
List Price:
$3,480.00
Our Price: $3,306.00
Barracuda CloudGen Firewall for Amazon Web Services Level 4 Virtual Subscription 1 Year
#BNGCAW004a-v
List Price:
$6,360.00
Our Price: $6,042.00
Barracuda CloudGen Firewall for Amazon Web Services Level 6 Virtual Subscription 1 Year
#BNGCAW006a-v
List Price:
$9,720.00
Our Price: $9,234.00
Barracuda CloudGen Firewall for Amazon Web Services Level 8 Virtual Subscription 1 Year
#BNGCAW008a-v
List Price:
$16,800.00
Our Price: $15,960.00
Barracuda Premium Support
(RENEWAL ONLY)

Barracuda CloudGen Firewall for Amazon Web Services Level 1 Premium Support Subscription 1 Year
#BNGCAW001a-p
List Price:
$346.80
Our Price: $329.46
Barracuda CloudGen Firewall for Amazon Web Services Level 2 Premium Support Subscription 1 Year
#BNGCAW002a-p
List Price:
$831.60
Our Price: $790.02
Barracuda CloudGen Firewall for Amazon Web Services Level 4 Premium Support Subscription 1 Year
#BNGCAW004a-p
List Price:
$1,560.00
Our Price: $1,482.00
Barracuda CloudGen Firewall for Amazon Web Services Level 6 Premium Support Subscription 1 Year
#BNGCAW006a-p
List Price:
$2,400.00
Our Price: $2,280.00
Barracuda CloudGen Firewall for Amazon Web Services Level 8 Premium Support Subscription 1 Year
#BNGCAW008a-p
List Price:
$4,320.00
Our Price: $4,104.00
Barracuda Malware Protection
(RENEWAL ONLY)

Barracuda CloudGen Firewall for Amazon Web Services Level 1 Malware Protection Subscription 1 Year
#BNGCAW001a-m
List Price:
$194.40
Our Price: $184.68
Barracuda CloudGen Firewall for Amazon Web Services Level 2 Malware Protection Subscription 1 Year
#BNGCAW002a-m
List Price:
$484.80
Our Price: $460.56
Barracuda CloudGen Firewall for Amazon Web Services Level 4 Malware Protection Subscription 1 Year
#BNGCAW004a-m
List Price:
$889.20
Our Price: $844.74
Barracuda CloudGen Firewall for Amazon Web Services Level 6 Malware Protection Subscription 1 Year
#BNGCAW006a-m
List Price:
$1,440.00
Our Price: $1,368.00
Barracuda CloudGen Firewall for Amazon Web Services Level 8 Malware Protection Subscription 1 Year
#BNGCAW008a-m
List Price:
$2,760.00
Our Price: $2,622.00
Barracuda Networks Advanced Remote Access
(RENEWAL ONLY)

Barracuda CloudGen Firewall for Amazon Web Services Level 1 Advanced Remote Access Subscription 1 Year
#BNGCAW001a-vp
List Price:
$346.80
Our Price: $329.46
Barracuda CloudGen Firewall for Amazon Web Services Level 2 Advanced Remote Access Subscription 1 Year
#BNGCAW002a-vp
List Price:
$462.00
Our Price: $438.90
Barracuda CloudGen Firewall for Amazon Web Services Level 4 Advanced Remote Access Subscription 1 Year
#BNGCAW004a-vp
List Price:
$922.80
Our Price: $876.66
Barracuda CloudGen Firewall for Amazon Web Services Level 6 Advanced Remote Access Subscription 1 Year
#BNGCAW006a-vp
List Price:
$2,520.00
Our Price: $2,394.00
Barracuda CloudGen Firewall for Amazon Web Services Level 8 Advanced Remote Access Subscription 1 Year
#BNGCAW008a-vp
List Price:
$4,200.00
Our Price: $3,990.00
Barracuda Networks Advanced Threat Protection
(RENEWAL ONLY)

Barracuda CloudGen Firewall for Amazon Web Services Level 1 Advanced Threat Protection Subscription 1 Year
#BNGCAW001a-a
List Price:
$277.20
Our Price: $263.34
Barracuda CloudGen Firewall for Amazon Web Services Level 2 Advanced Threat Protection Subscription 1 Year
#BNGCAW002a-a
List Price:
$692.40
Our Price: $657.78
Barracuda CloudGen Firewall for Amazon Web Services Level 4 Advanced Threat Protection Subscription 1 Year
#BNGCAW004a-a
List Price:
$1,320.00
Our Price: $1,254.00
Barracuda CloudGen Firewall for Amazon Web Services Level 6 Advanced Threat Protection Subscription 1 Year
#BNGCAW006a-a
List Price:
$2,040.00
Our Price: $1,938.00
Barracuda CloudGen Firewall for Amazon Web Services Level 8 Advanced Threat Protection Subscription 1 Year
#BNGCAW008a-a
List Price:
$3,360.00
Our Price: $3,192.00
CloudGen Firewall Pool for Amazon Web Services Level 2
Barracuda CloudGen Firewall Pool for Amazon Web Services Level 2 Advanced Threat Protection Subscription 1 Year
#BNGCAW002p-a
List Price:
$692.40
Our Price: $657.78
Barracuda CloudGen Firewall Pool for Amazon Web Services Level 2 Malware Protection Subscription 1 Year
#BNGCAW002p-m
List Price:
$484.80
Our Price: $460.56
Barracuda CloudGen Firewall Pool for Amazon Web Services Level 2 Premium Support Subscription 1 Year
#BNGCAW002p-p
List Price:
$831.60
Our Price: $790.02
Barracuda CloudGen Firewall Pool for Amazon Web Services Level 2 Virtual Subscription 1 Year
#BNGCAW002p-v
List Price:
$3,480.00
Our Price: $3,306.00
Barracuda CloudGen Firewall Pool for Amazon Web Services Level 2 Advanced Remote Access Subscription 1 Year
#BNGCAW002p-vp
List Price:
$462.00
Our Price: $438.90
CloudGen Firewall Pool for Amazon Web Services Level 4
Barracuda CloudGen Firewall Pool for Amazon Web Services Level 4 Advanced Threat Protection Subscription 1 Year
#BNGCAW004p-a
List Price:
$1,320.00
Our Price: $1,254.00
Barracuda CloudGen Firewall Pool for Amazon Web Services Level 4 Malware Protection Subscription 1 Year
#BNGCAW004p-m
List Price:
$889.20
Our Price: $844.74
Barracuda CloudGen Firewall Pool for Amazon Web Services Level 4 Premium Support Subscription 1 Year
#BNGCAW004p-p
List Price:
$1,560.00
Our Price: $1,482.00
Barracuda CloudGen Firewall Pool for Amazon Web Services Level 4 Virtual Subscription 1 Year
#BNGCAW004p-v
List Price:
$6,360.00
Our Price: $6,042.00
Barracuda CloudGen Firewall Pool for Amazon Web Services Level 4 Advanced Remote Access Subscription 1 Year
#BNGCAW004p-vp
List Price:
$922.80
Our Price: $876.66
CloudGen Firewall Pool for Amazon Web Services Level 6
Barracuda CloudGen Firewall Pool for Amazon Web Services Level 6 Advanced Threat Protection Subscription 1 Year
#BNGCAW006p-a
List Price:
$2,040.00
Our Price: $1,938.00
Barracuda CloudGen Firewall Pool for Amazon Web Services Level 6 Malware Protection Subscription 1 Year
#BNGCAW006p-m
List Price:
$1,440.00
Our Price: $1,368.00
Barracuda CloudGen Firewall Pool for Amazon Web Services Level 6 Premium Support Subscription 1 Year
#BNGCAW006p-p
List Price:
$2,400.00
Our Price: $2,280.00
Barracuda CloudGen Firewall Pool for Amazon Web Services Level 6 Virtual Subscription 1 Year
#BNGCAW006p-v
List Price:
$9,720.00
Our Price: $9,234.00
Barracuda CloudGen Firewall Pool for Amazon Web Services Level 6 Advanced Remote Access Subscription 1 Year
#BNGCAW006p-vp
List Price:
$2,520.00
Our Price: $2,394.00
CloudGen Firewall Pool for Amazon Web Services Level 8
Barracuda CloudGen Firewall Pool for Amazon Web Services Level 8 Advanced Threat Protection Subscription 1 Year
#BNGCAW008p-a
List Price:
$3,360.00
Our Price: $3,192.00
Barracuda CloudGen Firewall Pool for Amazon Web Services Level 8 Malware Protection Subscription 1 Year
#BNGCAW008p-m
List Price:
$2,760.00
Our Price: $2,622.00
Barracuda CloudGen Firewall Pool for Amazon Web Services Level 8 Premium Support Subscription 1 Year
#BNGCAW008p-p
List Price:
$4,320.00
Our Price: $4,104.00
Barracuda CloudGen Firewall Pool for Amazon Web Services Level 8 Virtual Subscription 1 Year
#BNGCAW008p-v
List Price:
$16,800.00
Our Price: $15,960.00
Barracuda CloudGen Firewall Pool for Amazon Web Services Level 8 Advanced Remote Access Subscription 1 Year
#BNGCAW008p-vp
List Price:
$4,200.00
Our Price: $3,990.00