Barracuda CloudGen WAN T400

The Global Secure SD-WAN Service Built Natively on Azure

Sorry, this product is no longer available, please contact us for a replacement.
Click here to jump to more pricing!
Barracuda CloudGen WAN T400:
Barracuda CloudGen WAN combines ease of use, full security, and cloud scalable SD-WAN connectivity to leverage the Microsoft Global Network as your WAN backbone instead of MPLS or leased lines. CloudGen WAN is a SaaS service deployed directly from the Azure Marketplace for as many regions as needed and administered centrally for all office locations and remote endpoints. The Microsoft Global Network is automatically provisioned as the backbone for anywhere anytime application access. Create a pragmatic SASE solution in the public cloud you prefer, on your own terms.
Eliminate costly MPLS leased lines

Get fast, effortless access to the Microsoft Global Network backbone for high-performance site-to-site and site-to-cloud connections.

Deploy to all your sites rapidly and easily

Zero-touch deployment for all CloudGen WAN site devices requires no local expertise. Just plug them in and they self-configure.

Fully leverage all your cloud and SaaS solutions

CloudGen WAN eliminates latency and bandwidth shortfalls that can degrade performance of apps you rely on, such as Office 365.
Customer Benefits
Deploy an SD-WAN network in a fraction of the time compared to existing solutions
Scale up and down dynamically
Quickly interconnect all branches and home offices
Use the Microsoft Global Network as your highperformance WAN backbone
Achieve best application experience in cloud apps and services, while maintaining high security
Easily deploy alongside existing firewalls or replace your existing security device
Optimize cloud access out of the box, with default settings for cloud and SaaS apps
Enforce full security for branches lacking security solutions
Enforce web access regulations
Extend the WAN to Microsoft Azure seamlessly
Enjoy optimized Office 365 experience
Replace inflexible MPLS with Microsoft Global Network
Benefit of monthly SaaS billings instead of long term lock-in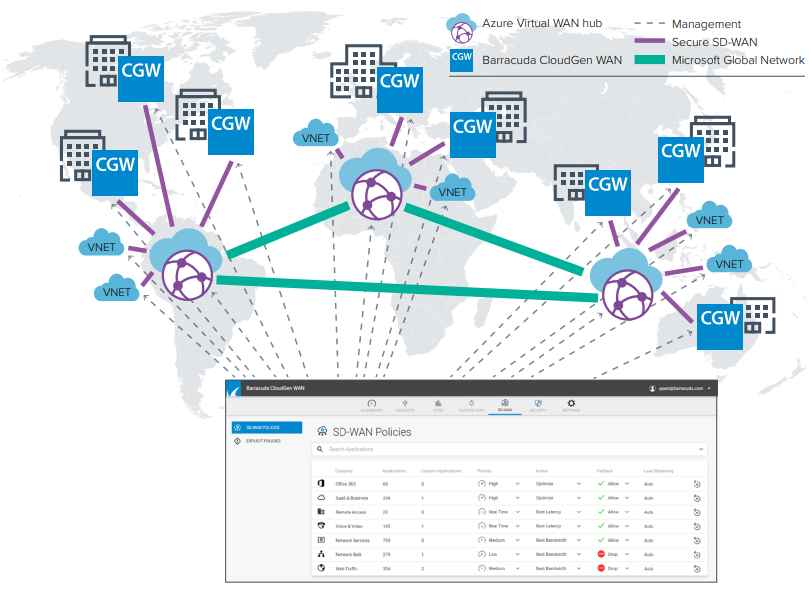 Leverage the power of Barracuda Advanced Threat Protection
Barracuda CloudGen WAN makes full use of the Barracuda Global Threat Intelligence Network that ingests vast amounts of diverse threat information from millions of collection points around the world. These include deployed Barracuda endpoints, honeypots, or decoys intended to attract the attention of threat actors and criminals, autonomous crawlers, bots that travel the internet actively seeking out new threats, third-party malware submissions, and analysis by Barracuda Labs. Each of these checks for unknown traffic patterns, files or code and, if not known, submits to the Barracuda Advanced Threat Protection cloud service for detailed analysis. Sophisticated analysis techniques, including multiple levels of code inspection, machine learning and sandboxing, make sure that all submitted traffic gets a final verdict quickly. The obtained information is subsequently available for every Barracuda Networks device. Existing security classification is available for hundreds of millions of files and 99.9% of all traffic. Cloud-based sandboxing is applied automatically for the remaining unknown traffic, making CloudGen WAN the easiest ways to protect your network, users and data from malware and advanced threats.
The first firewall on Azure
Barracuda CloudGen WAN is based on the same secure backend technology as Barracuda CloudGen Firewall, the first next generation firewall on Azure in 2014. As the first security vendor in the Azure Marketplace, Barracuda builds solutions in Azure and for Azure, achieving deep integration no other vendor can match. With eight current Microsoft Preferred solutions, and active joint development by Microsoft and Barracuda, we make it easy to secure your journey to the Azure cloud.
CloudGen WAN site devices are available in five different form factors as hardware appliances and as virtual appliances for hyper-converged infrastructure deployments. Hardware appliances are true turn-key solutions with zero-touch deployment and SD-WAN throughput ranges from 300 Mbps to 10 Gbps. Virtual appliances are available for Hyper-V, VMware, Xen and KVM, ranging from 100 Mbps to 5 Gbps.
Pricing Notes:
Please Note: Energize Updates and Instant Replacement Subscriptions need to be maintained for every Barracuda Product. All subscriptions are continuous and must start from the date of activation. Renewals purchases are continuous and start from the date of expiration of your current subscriptions. No exceptions.
Benefitis of Energize Updates:

Basic Support, which includes email support 24x7 and phone support between the hours of 9 a.m. and 5 p.m. Monday through Friday in the US (Pacific Time), Japan, China, Austria and the United Kingdom time zones.
Firmware Maintenance which includes new firmware updates with feature enhancements and bug fixes.
Security Updates to patch or repair any security vulnerabilities.
Optional participation in the Barracuda Early Release Firmware program.

Benefits of Instant Replacement:

Enhanced Support which provides phone and email support 24x7.
Data migration service for Barracuda Spam & Virus Firewalls. Barracuda Networks will assist movement of data and configuration from the old product to the new product if the old data is accessible.
Data recovery service for Barracuda Backup Servers. In the event of a disaster and upon request, Barracuda Networks will preload the most recent data and configuration stored by Barracuda Networks to the new product (note this may take additional time).
Hard Disk replacement on Barracuda Networks models that have swappable raid drives. Barracuda Networks will ship via standard shipping a hard disk replacement. Customer must return the failed hard disk to Barracuda Networks.